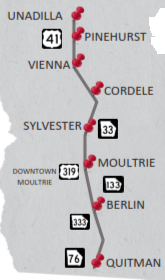 Where Do You Want To Go?
---
Social Newsfeed:
The 100+ Mile Peanut Pickin' Yard Sale is a joint-effort of seven cities and communities to promote tourism. Starting on Hwy 41 in Unadilla, Georgia the route will travel to Vienna and Cordele on Hwy 41. South of Cordele take Hwy 33 to Sylvester and on to Moultrie. From Moultrie take Hwy 133 to Berlin and then Hwy 333 to Quitman. Plan to enjoy the day with us!
100 Mile Peanut Pickin' Yard Sale shared a post.
Vintage Nest, 129 N. Main Street, Sylvester, GA 31791
Good morning, Y'all. Here is a view from our front door. So you can find your way here Saturday for the Peanut Pickin 100 Mile Yard Sale! Also, we're so proud to have Bill and Susan Yearta as our neighbors on Main Street. Good luck Bill in your run for State Representative!